How can I put this...? Oh, yes:
Meh.
That was my reaction to Vienna after seeing Prague.
On Canada Day, we piled into the rental car and made our way south.
We took a side trip south-east to a little town called Kutna Hora. It's an UNESCO World Heritage site for two reasons. Firstly, one of the oldest standing cathedrals in the world:
Chrám sv. Barbory
or St. Barbara's cathedral. So old, that it still boasts original frescos (albeit, faintly) from the middle ages. I was awed at the amazing work that people could do 1000 years ago, without the advances of mechanics. Think of all the neat tools we have, and the crap buildings we throw together.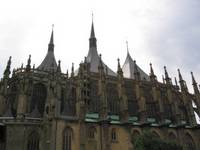 St. Barbara's

Then we go take a look at the Sedlec Ossuary. Basically, about 600 years ago, a bunch of monks went to build a church. But when they started digging around, they unearthed some bones. The bones of 40,000 humans remains. Geez, what's a guy to do with all these dead people. Well, if you're these guys, you build things out of them. Like giant chalices, and a chandelier, and a huge coat-of-arms wall hanging. It really highlights the futility of everything we waste our sorry existence doing.
After breathing 600 year-old bone dust, we headed off to Vienna. We crossed the border from CR to Austria with no problems, drove into Vienna, and then spent the better part of 2 hours looking for our hotel (this was to become a theme).
Funny, when you spend hundreds of years trying to ward off intruders, you don't build friendly streets and avenues with square blocks and crossroads.
We discovered that great European city phenomenon know as the "Ring Road." It's a fun road that loops the entire city (Munich has one too), with poorly marked exits to let you off in the district you need to be in. In our case, it was the Museum District. Finally, through some ingenuity and a helpful hotelier, we managed to find our hotel.
It was late, so mom and I stayed in and ordered room service, while Michael and Dad went out to an Irish pub for supper. I watched CR get smote by Greece in the EuroCup. Sadness.
Our time in
Wien
was frustrating. It wasn't nearly as beautiful as Prague. The buildings were more ostentatious than ornate. The river tour of the Danube highlighted the hydro station and the garbage incinerator (which
was
decorative, as it was designed by some famous Viennese architect).
We went to the Museum of Natural History, which was awesome -- probably the sightseeing highlight of Vienna. I got to gorge myself on
real
Vienna Sausages!! Trust me, they taste much better than the ones in the can. We took a bus tour into "the mountain" -- which is where the Alps begin in the east -- for a panoramic view of the city.
We ate at an
amazing
Italian restaurant. The chef was Austrian, but his wife (the owner) was Italian. Awesome food, and they were so excited to get some friendly customers. She even went out of her way to write up the names of some nice places in Northern Italy that are must-see! We had to go back the next day for a drink. They were awesome.
Finally, we ended our tour of Vienna with an evening at a Viennese wine garden. They make some great wines in the eastern foothills of the Alps. Tasty! And the food! Holy crap! There was a buffet, or you could have a wine-maid bring you food. We opted for the latter, assuming it would be less. WRONG. I don't think the average person is supposed to eat a plate of deep fried vegetables
and
beef tongues
and
porkchops
and
schnitzel
and
sausage, plus condiments
and
4 kinds of streudel. One each for everyone.
We went back to the hotel very bloaty.
Next stop, Salzburg!